Teravista Round Rock TX Solar Screen Installation
"Teravista Subdivision, Round Rock, TX -
Chocolate 80% and 90% Solar Screen Installation with Champagne Frame for the Back WINDOWS of the House"
The back side of this home faces West, therefore it gets the blunt of the day's sun. We used the chocolate fabric with the champagne frame. The window's frame color was champagne, so the natural color choice for the screen's frame was champagne as well. Because this side of the home faces the West we used the 90% fabric on most of the windows. For the windows under the patio, we used the 80% fabric. We say on our website where we describe when to use the 90% and when to use the 80% fabric, that if your West facing windows get 4-5 hours of direct sun, you for sure would want to use the 90% fabric. For the windows under the patio, they only got 2 hours of West sun, so the 80% was sufficient. For all the other windows, the 90% was used, as they are West facing windows that get full afternoon sun of 4-5 hours.
The solar window screens for this home required the installation of our die cast metal clip to mount them. The windows of this Teravista home were not made to accommodate full sized screens, they did not have the lip-provisions at the top or the bottom of the window to hold a full sized screen in place, so the solar screens had to be surface mounted using these die-cast metal turn clips. For a clear understanding of how we install our solar windows screens, please visit our page titled Videos of How We Install.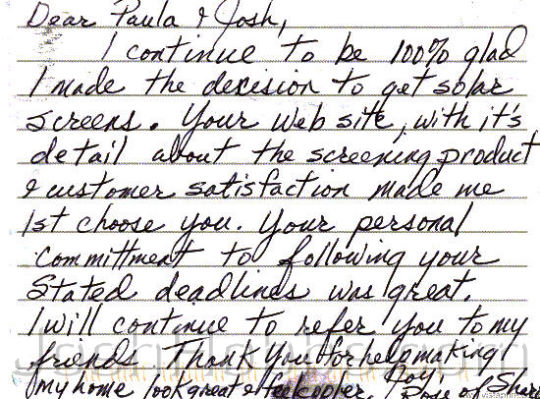 Josh & Paula, I continue to be 100% glad I made the decision to get solar screens. Your web site, with itís detail about the screening product and customer satisfaction made me first choose you. Your personal commitment to following your stated deadlines was great. I will continue to refer you to my friends. Thank you for helping make my home look great and feel comfortable.
-Joy, Rose Sharon [re: 130]
SiteMap
solar screens austin solar screens austin texas Sun Screens solar window screen
solar window screens austin solar screens
Solar Screens WordPress Blog Solar Window Screens Live Journal Blog Solar Screens Austin Blogger